Celebrating the Ukrainian Liturgy at the Monastery.
A brief history of the Carmelite Monastery in Santa Clara and the sisters.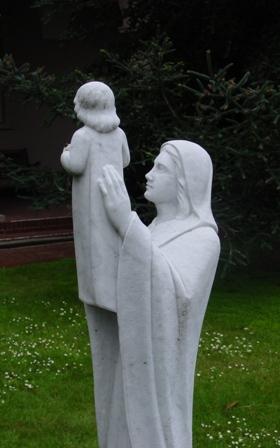 The Carmelite Monastery was founded in 1908 to provide a place for solace and spirituality in Northern California. Guests are invited to visit the timelessness, hidden within the Carmelite Monastery's walls from 9 a.m. to noon, and from 1 to 4 p.m. Strolling the grounds during visiting hours, one may quietly enjoy the shady pathways, olive groves, rose arbor, and the chapel. The grounds are known for their tranquility, quiet and peaceful meditation. Exquisite detailing from marble statues, intricate wall carvings, and numerous archways and pillars define the interior of the chapel.
Open to the public, the Carmelite Nuns hold a daily Mass at 7:15 a.m. and Sunday Mass at 10:30 a.m. But don't expect to see the nuns; they observe mass from a private room. The 10 acre monastery and garden are located east of Santa Clara University, at 1000 Lincoln St, between Benton and Homestead, behind the high walls and wrought-iron fence.
Judge Hiram Bond purchased the land the Monastery now sits on in 1895 and established a ranch house. Jack London, a frequent visitor, used the ranch as the starting locale for his famous novel "The Call of the Wild" and Marshall Bond's dog for the hero of the book. The property was purchased by Senator James Phelan and his nephew Noel Sullivan. The Carmelite Monastery was built in 1917. The converted carriage house and redwood water tower were built prior to 1860.
The official name of this monastery of Carmelite nuns is "Carmel of the Infant Jesus." The residence of the nuns is known as the Monastery of the Infant Jesus. The monastery chapel and residence buildings were consecrated in 1917 as a permanent monastery for the community of cloistered Carmelite nuns, in memory of Mrs. Francis J. Sullivan, Phelan's sister.
This monastery is a beautiful example of Spanish Renaissance-style architecture. It is considered the most perfect example of Spanish renaissance ecclesiastical architecture in the new world. The Monastery buildings were designed by Maginnis & Walsh, who designed the National Shrine of the Immaculate Conception in Washington, D.C. Plans for the chapel won two prizes: first prize in 1925 at the International Grand Prix Paris International Exposition and second, the Gold Medal of Excellence from the Institute of American Architects.<> Carmelite nuns can be found in monasteries throughout the world. The nuns are part of a religious order of cloistered Carmelite nuns, a Catholic religious order that dates back to the 12th century. As followers of St. Teresa of Avila, they cultivate humility as St. Teresa once did.